Shipping from Canada to France
Meest Canada is the most efficient and safe way of shipping to France from Canada.
For customers who live in Canada and wish to send parcels to France cheap
The minimum weight for parcel delivery to France by air is 5 kg (11 lbs). Maximum weight for parcel delivery by air is 20 kg (44 lbs) and by sea is 30 kg (66 lbs)
We also send small packages up to 2kg (4.4 lbs). Please see pricing below.
Every parcel to France is insured with the company for $60 US. The maximum amount of additional insurance for parcels is $800 US;
Articles for personal use and non-commercial goods valued at less than 45 EURO from one shipper to one recipient in the same shipment may be shipped Duty-Free. If the value of the contents of a package exceeds this limit, such package will be assessed with Customs duties.
We don't ship packages with a declared value over €150 by EU customs regulations
Import Duty-Free threshold in EU: low-value goods and private-to-private consignments up to €45 are not subject to prohibitions or restrictions.
Taxes and duties extra when applicable depending on the country's destination and declared value of the packages.
If there is no representative of Meest Corporation Inc. in your area, you can send a parcel from Meest as follows:
• register on the Meest portal for cheapest shipping to France
• register the parcel online by choosing one of the options:
1. Canada Post Drop-off - the possibility to drop off your parcel to Meest through any Canada Post branch.
2. Canpar Home Pick-up - pick-up of your parcel from your home by the courier of our partner Canpar.
• pay for the package online
• print the barcode that you will receive after processing the parcel and stick it on the box
If you chose option Canada Post Drop-off, visit any Canada Post branch and give the package to a post office employee. It will scan the box and transfer it to Meest.
If you chose option Canpar Home Pick-up, wait for the courier of our partner Canpar and give the package to him. He will scan the box and transfer it to Meest.
Packaging, Weight, and Volume
Parcels must be securely packaged, preferably in a cardboard box, with the name and address of both the sender and the recipient - must be written on 2 (two) sides of a parcel.
Meest Corporation does not cover damages to the contents of the parcels. Please notify our agents if you have any fragile items in the parcels and they will assist you in packaging them securely.
The maximum size of parcel: either side cannot exceed 1.05 m (41"), the weight of parcel may be less than 5 kg, but the cost of shipping is as for 5 kg.
The cost of your package can be affected by the amount of space that it occupies on an aircraft, rather than the actual weight.
To determine the cost of shipping, the greater of the actual weight or dimensional weight is utilized.
The following are formulas for the dimensional weight in lbs. and kg*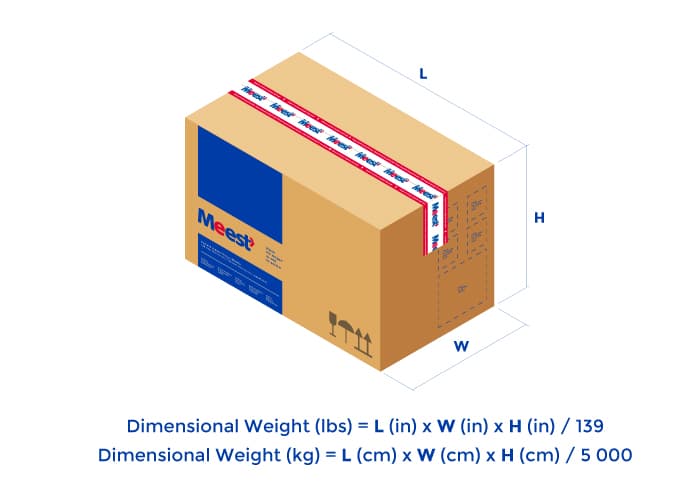 *This formula only applies to AIR shipments
Each parcel is automatically insured for 60 CAD. If you, as the sender, waive any additional insurance, you will need to put your signature in the column "For sender: sign here to waive additional insurance and accept 60 CAD limited liability".
The maximum amount of additional insurance for parcels is 800 CAD. Under these terms, if opting for additional insurance, you will need to indicate the additional insurance amount in the "Insurance" column. Insurance is available for larger amounts depending on the parcel contents; customers will need to coordinate larger amounts of insurance with Meest Corporation – head office.
Please note: parcels insured for over 500 CAD may be opened by Meest's employees or agents, in the presence of the sender, to determine whether the contents of the parcel correspond to the insured amount.
IMPORTANT INFORMATION
Country-specific rules and regulations by origin and destination countries
Welcome to Meest website!
We noticed that your region has changed.
Would you like to be transferred to the local country page?
Please consent to the processing of your personal data