VERY IMPORTANT UPDATE - EFFECTIVE JUNE 8, 2023
We need to help our people who were affected by Kakhovska dam explosion.
Another great disaster came to Ukraine with the explosion of the Kakhovska dam. Meest expresses its sincere condolences to all who were affected by this act of violence.
We all must support our people, so announce special rates for sending parcels from Canada and the USA to Kherson, Mykolaiv, Odesa and Zaporizhzhia regions from June 8th to July 6th, 2023 via Meest agents only. This rate is applicable to packages from 5 kg.
HUMANITARIAN PACKAGES FROM CANADA:
GTA (inc. Hamilton & Oshawa):
✅ AIR - $5.45/kg + $15 local delivery charge
☑️ SEA - $2.75/kg + $15 local delivery charge
ON/QC:
✅ AIR - $6.45/kg + $15 local delivery charge
☑️ SEA - $3.75/kg + $15 local delivery charge
REST OF CANADA (MB/AB/BC/SK/NS/PE):
✅ AIR - $6.95/kg + $15 local delivery charge
☑️ SEA - $4.25/kg + $15 local delivery charge
HUMANITARIAN PACKAGES FROM USA:
✅ AIR $2.59/lb + $15 local delivery charge
☑️ SEA $1.19/lb + $15 local delivery charge
Here you can find the list of Meest agents you can send the package from: ca.meest.com/offices
Canadian and American charity organizations willing to send big volumes of humanitarian help have their special rates too. To request shipping or additional information, please write us at info@meest.net
VERY IMPORTANT UPDATE - EFFECTIVE SEPTEMBER 1, 2022
Since the beginning of the war, Meest and the BCU Foundation have sent more than 500,000 kg of humanitarian aid to Ukraine.
The aid has already been delivered to many organizations and families who needed it in the first place.
A list of charitable organizations to which assistance was provided can be found HERE
Meest is exceptionally grateful for your generous support in helping the people of Ukraine at this difficult time!
Unfortunately, at the moment, we reached total capacity regarding our resources for free shipping.
Starting from September 1st, 2022, the shipping fees below apply to humanitarian aid shipments
sent from Meest Toronto Warehouse.
✅ $8.45 per kg - by air
✅ $4.45 per kg - by sea
HUMANITARIAN AID STATISTICS
Meest Corporation Inc. has been fully engaged in processing and shipping Humanitarian Aid donations for over one month now.
Our hearts are with our families, friends, colleagues, and all the people in Ukraine. Since we can't be with them, we have made it our mission to help them from Canada.
In full transparency, we want to keep you informed with the latest updates so here is a breakdown of stats as of April 1st, 2022:
Air shipments – 66,200 kg
Sea shipments of humanitarian aid – 137,500 kg
It included the following items:
Medical supplies (First aid kits, bandages, pain relief/anti-inflammatory medicines, vitamins, etc.)
Hygiene products
Toiletries
Blankets
Specialized clothing
Food
Pet food
TV BROADCASTS & NEWS ARTICLES
Our warehouse has been visited by many local, national, and international news outlets.
They all want to see and share the extraordinary efforts of how humanitarian aid is processed! We could not have made it this far without the help of so many people, so we want to share some of these broadcasts, articles, and photos with you.
Bradford Today
, 
CBC
, 
CityNews
, 
CTVNews
, 
CTVNews Ottawa
, 
DurrhamRadioNews
, 
Gananoque Reporter
, 
Global News
, 
Gx94 Radio
, 
Iheartradio
, 
Insauga
, 
Inside Halton
, 
Intelligencer
, 
Kingston This Week
, 
Orangeville
, 
Quinte News
, 
Sherwood Park News
, 
The Globa and Mail
, 
Toronto Star
, 
TVO
HUMANITARIAN AID DISTRIBUTION
Our Meest office in Ukraine has received over 3,500 tons of humanitarian aid from the USA, Europe and Canada.
They have been working around the clock, and we are thankful to them for their hard work and dedication. This critical aid was distributed to the following charitable organizations, who then dispersed it to those in need: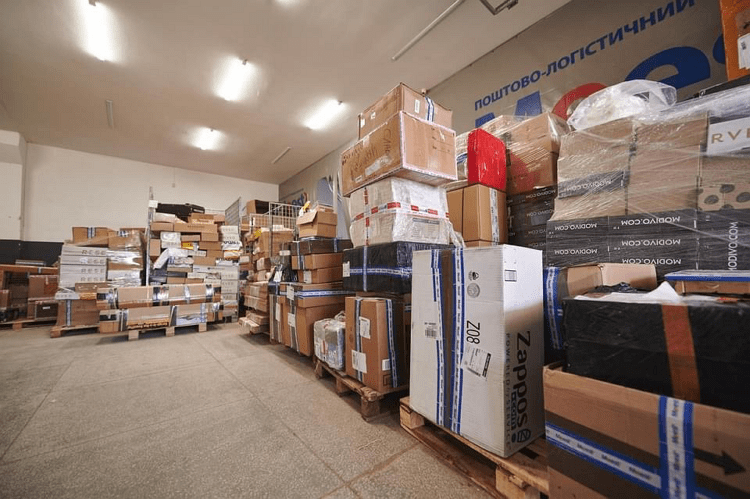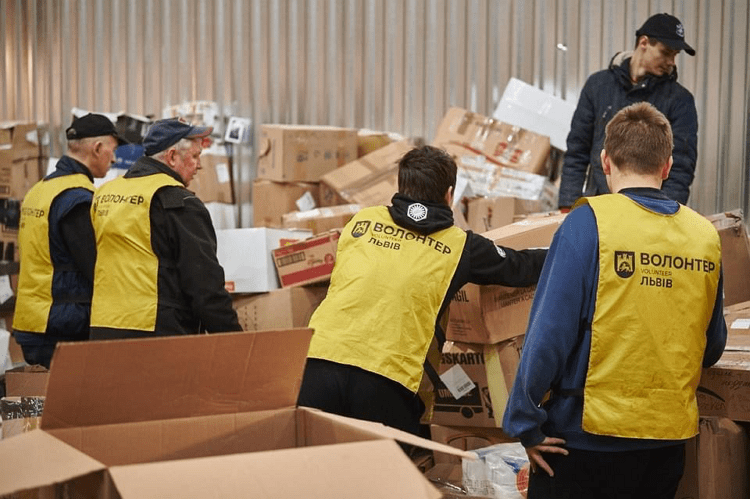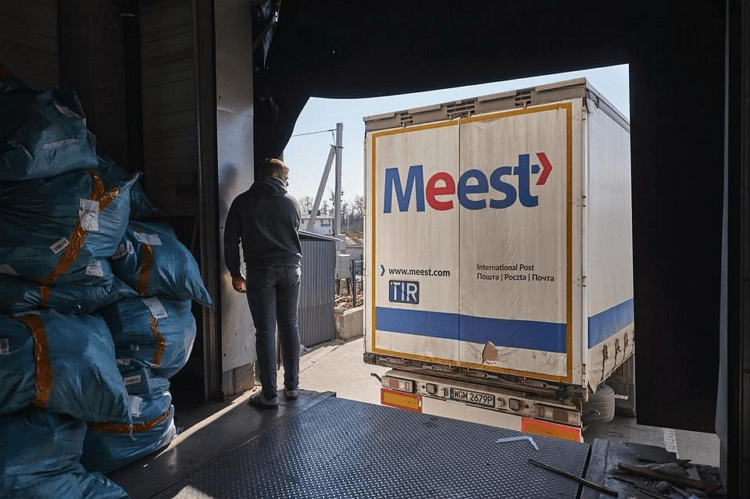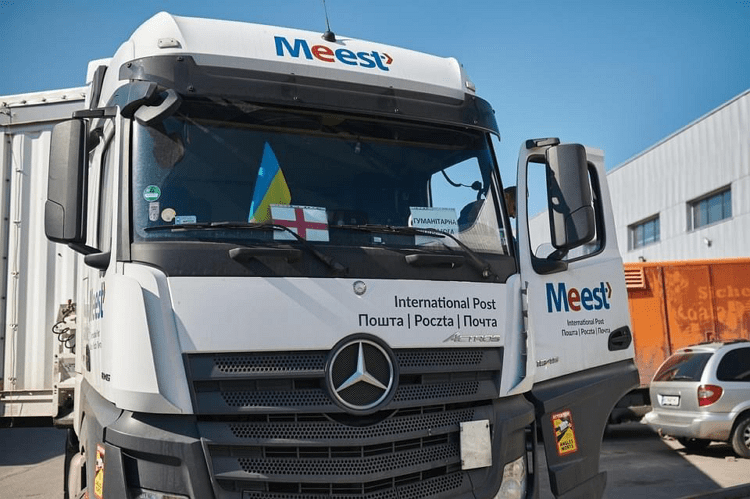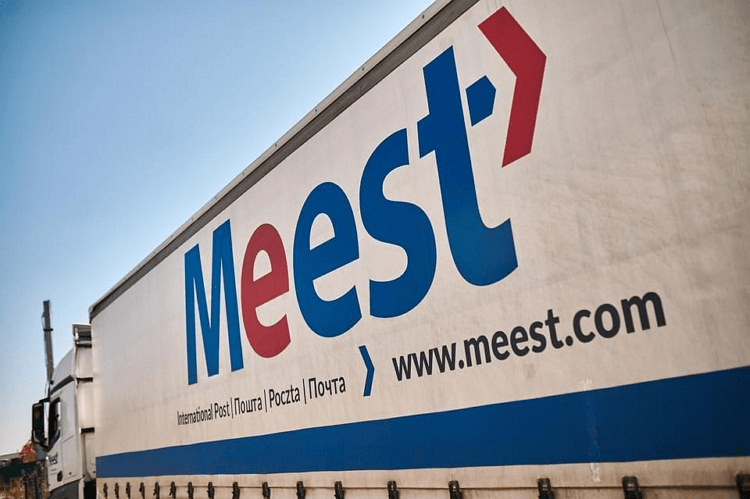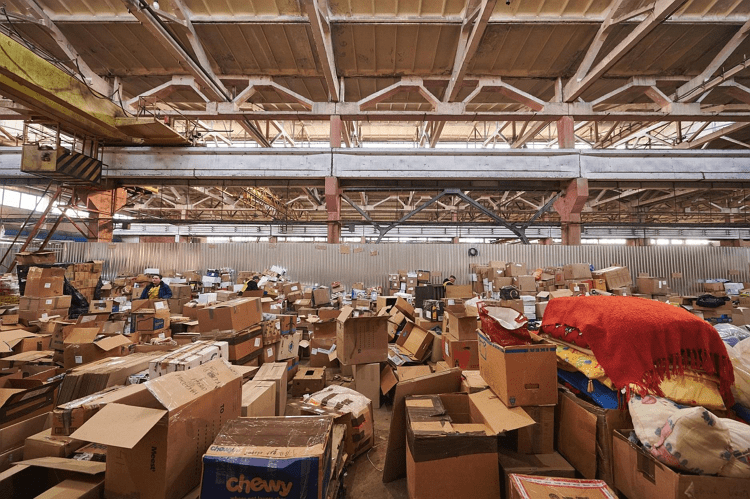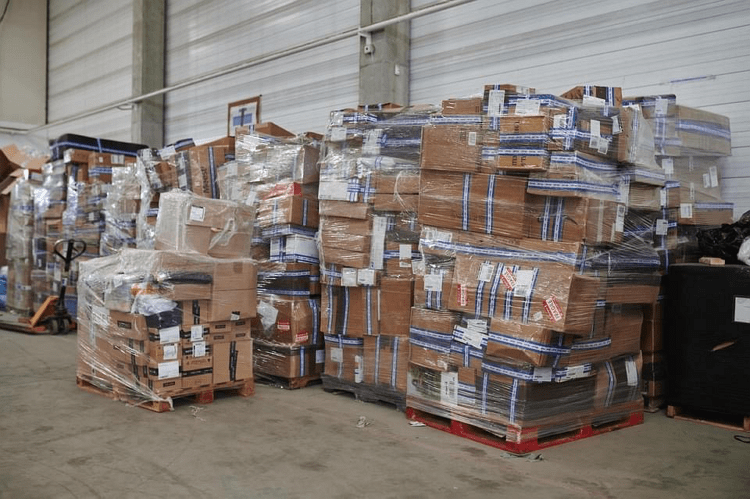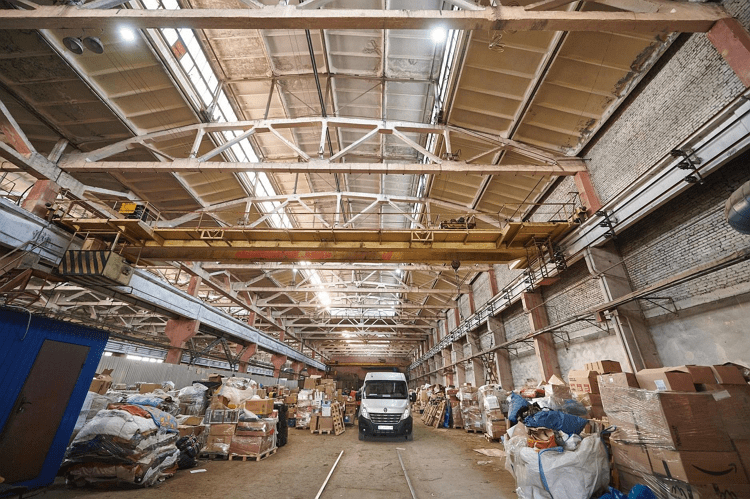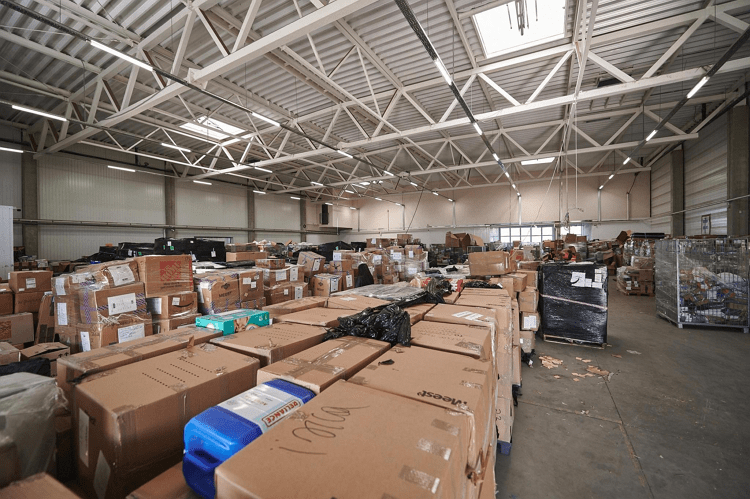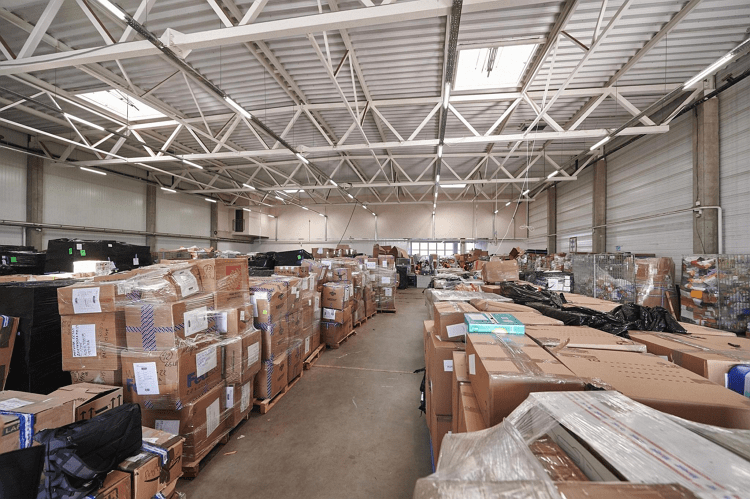 In order for Meest Canada to keep sending critical humanitarian aid to the Ukrainian people, we ask you that you please help us subsidize shipping and logistics costs by making a contribution!
Special thanks to everyone who donated these critical supplies! We are proud of our Meest employees and volunteers here in Сanada and Ukraine, who worked so hard to process and ship out this Humanitarian Aid thus far. We also want to send special thanks to our generous sponsors BCU Foundation, without whom, we would not have been able to ship out a large portion of the massive amount of humanitarian aid we received in our Toronto warehouse. However, our work continues because the war is not over. Therefore, we must still ask if you can help offset shipping and logistics costs for the aid that remains in our warehouse by making contributions.
Слава Україні!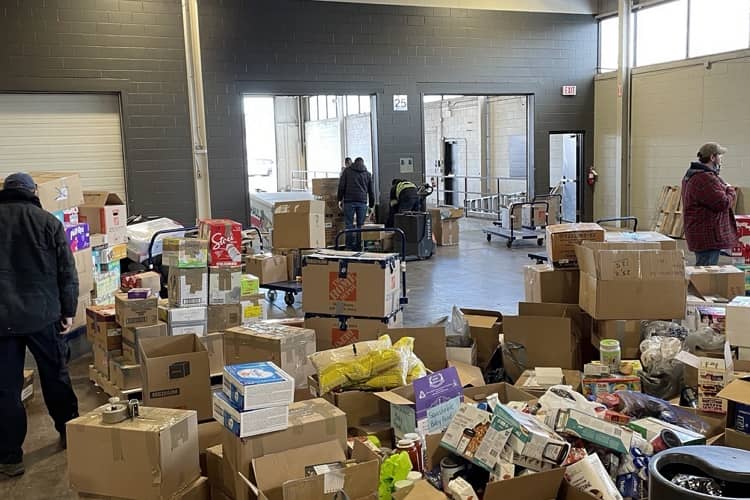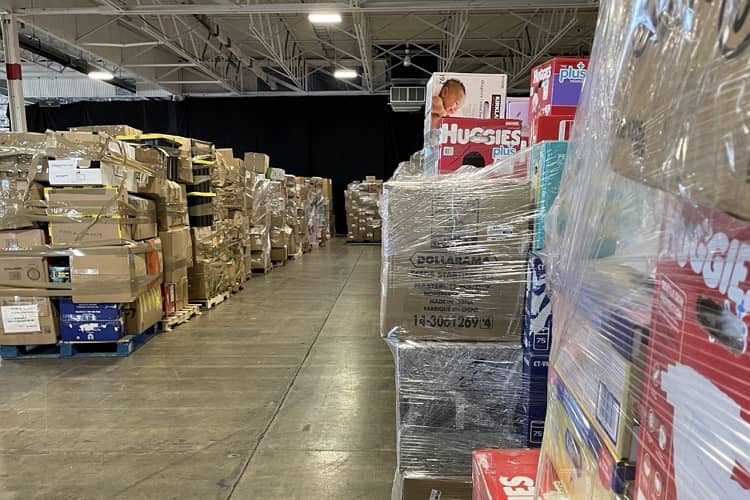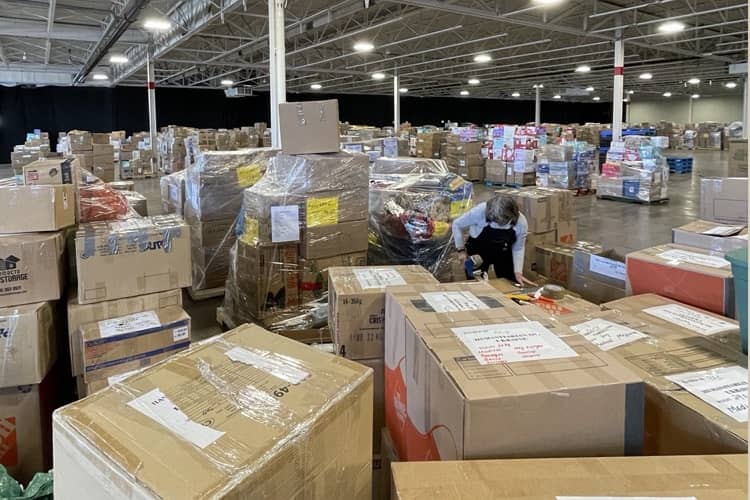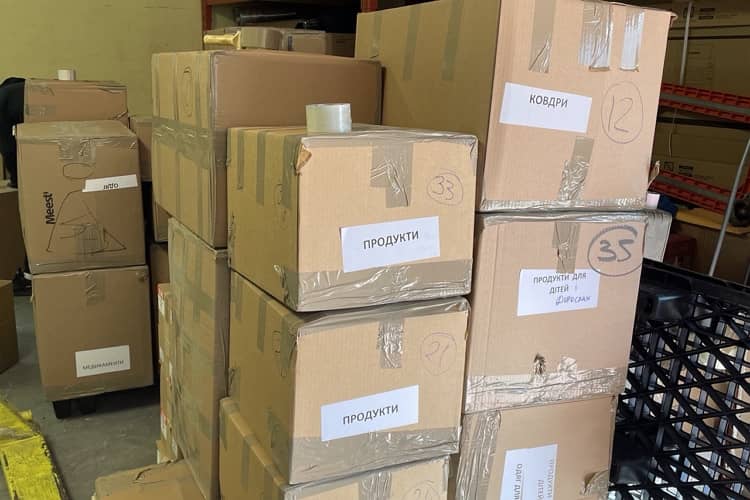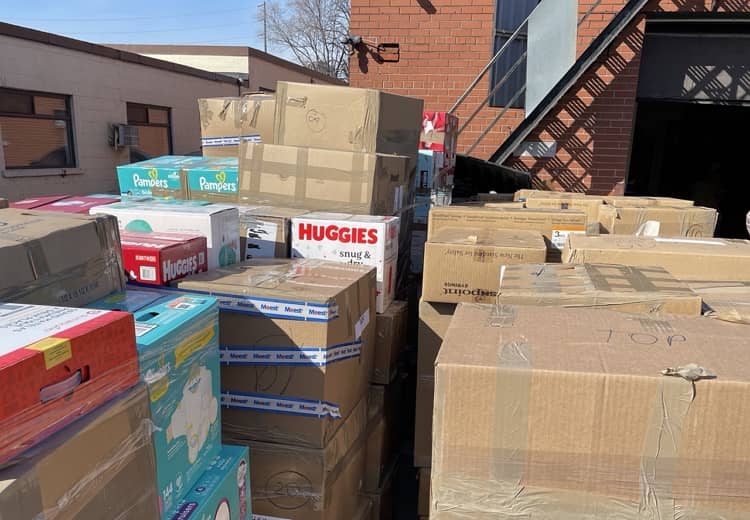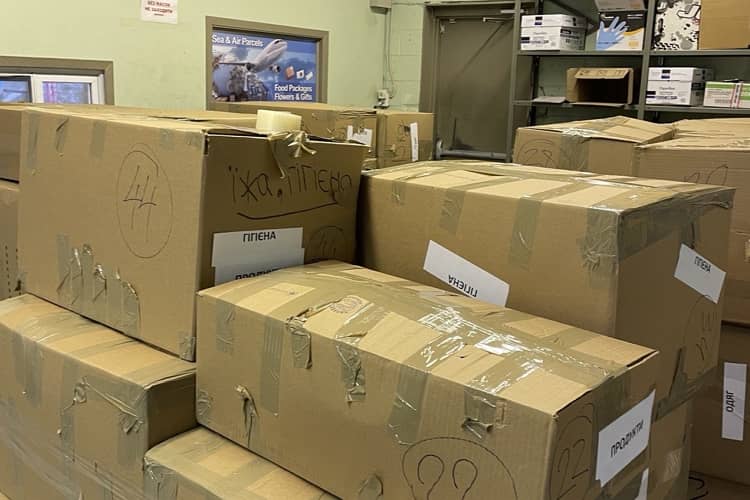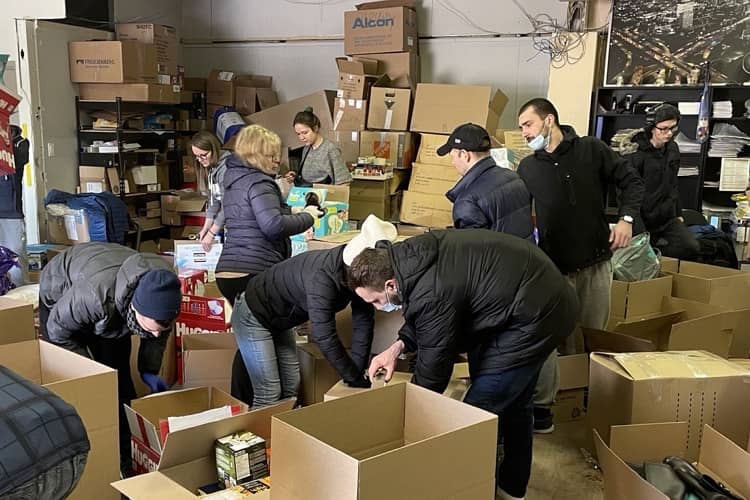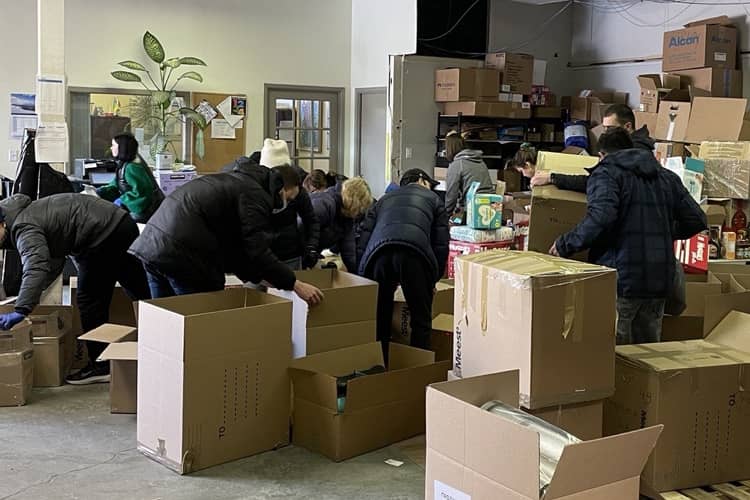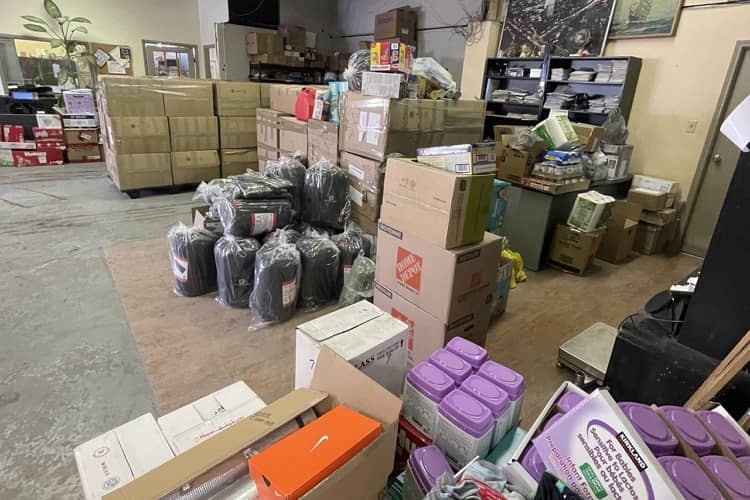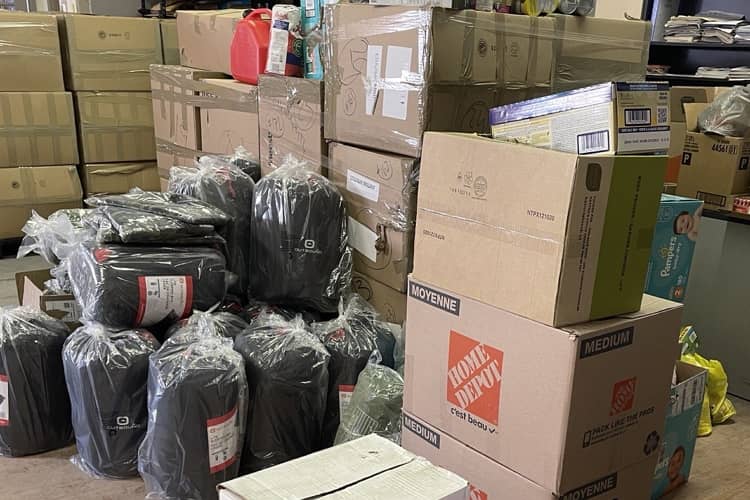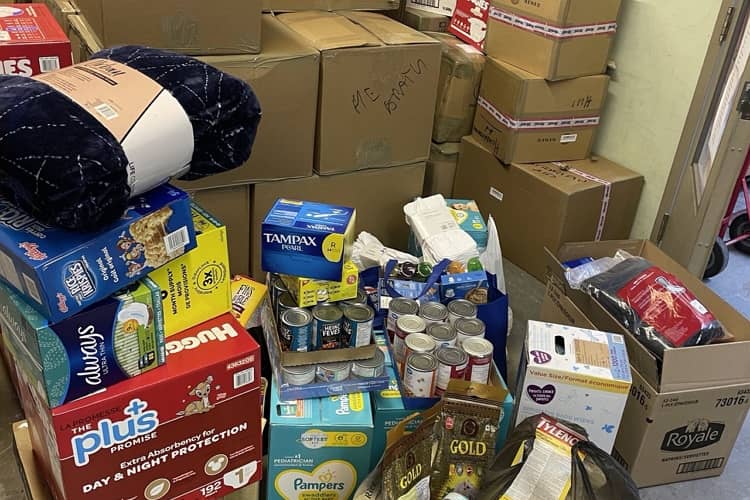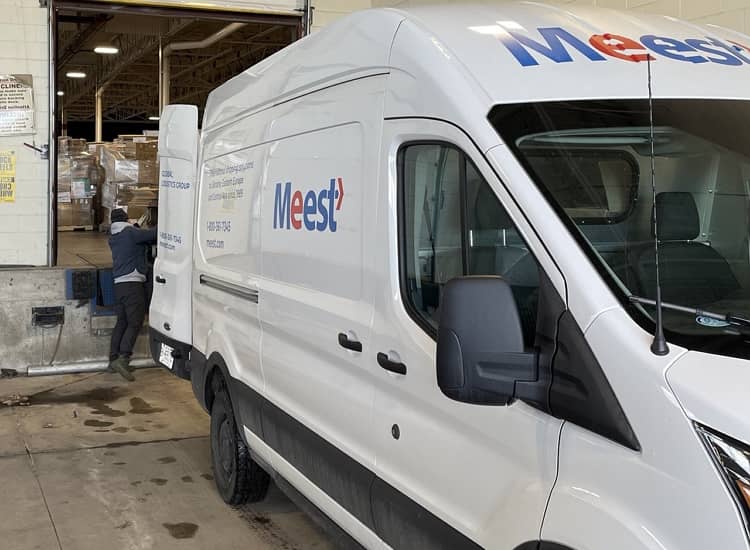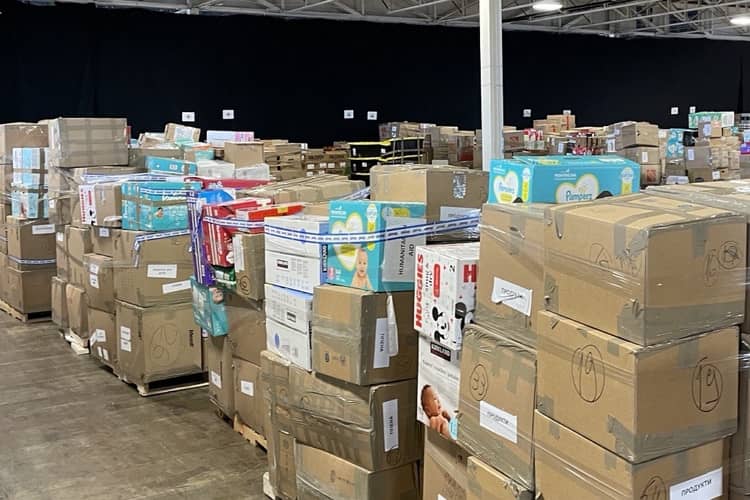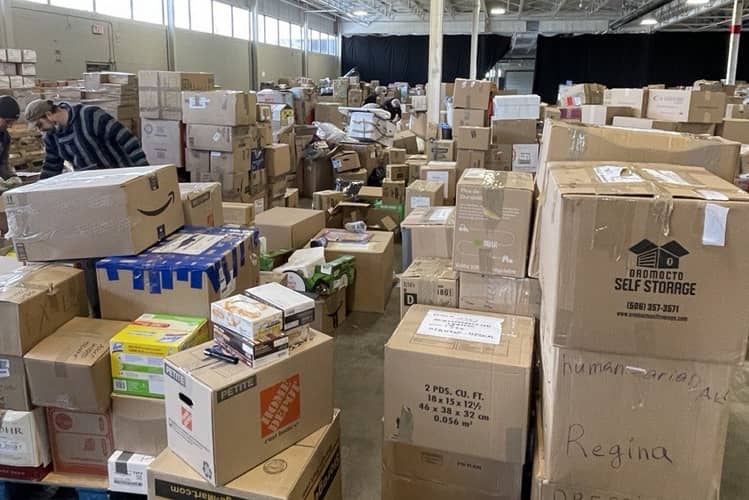 FAQ
WHAT ITEMS ARE RESTRICTED?
Firearms, signal guns, air guns, gas arms, cold steel arms (including throwing weapons), electric shock devices and spark gaps, as well as parts of those weapons;
Weapon Parts;
Perishable foods;
Narcotics of any origin, psychotropic substances;
Radioactive substances;
Gunpowder, explosive, corrosive, flammable and other hazardous substances;
Animals and plants;
Alcoholic beverages, cigarettes, tobacco;
Human remains and organs;
Antiques;
Jewelry, precious metals and stones;
Works of art;
Cash and cash instruments in any form: money orders, checks, vouchers, securities, bonds, coupons, promotions, credit cards;
Postage stamps;
Products and publication of obscene content, pornography of any kind;
Bengal lights and fireworks;
Gases in any package, including pepper and tear gases;
Flammable liquids, perfumes, colognes, nail polishes, etc.;
Any fuel and empty containers from it;
All paints and their solvents;
Radioactive materials;
Corrosion inhibitors;
Pipe cleaners;
Oxygen-rich substances;
Containers with aerosols;
Tanks for propane;
CO2 tanks;
Gunpowder;
Dry ice;
A tool that runs on fuel;
Lighters and their filling;
Matches;
Rechargeable batteries, power supplies, batteries;
Alcohol-based agents, perfumes, nail polishes and hair;
Alcoholic beverages;
Absorbers and other used spare parts or containing lubricating fluids and materials.
Items prohibited by the World Association of Transport.
Items that require export licensing by the State Department or Commerce Department must be accompanied by a license
Items that may pose a risk to workers, transporting parcels, soil, or damage other items and equipment by their nature or packaging;
When can I drop off humanitarian aid packages?
Starting Monday, February 28, 2022, at any Meest and agent location in Canada and the U.S. Please check our website for hours and agent locations https://us.meest.com/contact-us
Do all Meest agent locations accept humanitarian aid packages?
How long is the delivery time?
The estimated delivery time is 5-10 days from the date of shipment. Unfortunately, due to the current situation, we currently cannot guarantee shipping times.
Are packages being shipped by air or by sea?
Packages can be shipped by air or sea.
What items are needed in the humanitarian aid packages?
At this time, there is a big demand for items from the list
Are you processing regular (non-humanitarian aid) shipments?
Yes, we do. All regular shipments are processed as usual and are subject to standard prices.
Where are the packages going?
Humanitarian aid will be automatically delivered to International Charitable Foundation "Meest" in L'viv (Міжнародний Благодійний Фонд "Міст") and dispersed to Ukrainian charity relief organizations who will distribute these packages throughout Ukraine. Three charitable organizations we work with in Ukraine are Організація «Народна самооборона Львівщини» / Lviv Samooborona, Caristas Ukraine, and ComeBackAlive.
Is there a shipping cost?
WE CAN NO LONGER SUBSIDIZE FREE SHIPPING FOR HUMANITARIAN AID. PARCELS WILL BE ACCEPTED WITH DELIVERY TO NON-PROFIT ORGANIZATIONS AT A HEAVILY DISCOUNTED RATE OF:
$2.30 PER POUND - BY AIR
$1.00 PER POUND - BY SEA
What is the maximum weight of an individual humanitarian aid package?
The maximum weight for one package is 66 pounds (30 kg).
How should packages be packed?
In order to easily expedite packages, all packages MUST be sorted according to category – food with food, first aid with first aid, etc.
What else do I need to bring for a drop-off?
We need a total and detailed description of goods in each package, as well as an estimated value for each package.
Welcome to Meest website!
We noticed that your region has changed.
Would you like to be transferred to the local country page?
Please consent to the processing of your personal data