Delivery from Ukraine to Canada and the U.S.
Meest Corporation delivers letters (documents), small packages and parcels from Ukraine to Canada and the U.S.
Delivery calculator
Rates for international delivery services
Ukraine
Estimated shipping cost
Ukraine
There is a restriction on the volumetric weight for parcel shipments, up to 65 kg
All parcels are subject to a brokerage fee. If a parcel has an estimated value of more than 20 CAD for Canada / 800 USD for the U.S., customs duties and/or HST tax charges may be applied by customs.
Estimated shipping costs may vary due to CAD/USD to UAH exchange rate changes.
123
Estimated shipping cost
Ukraine ❯
Великобританія
City:
State:
Package weight: 5 kg
Parcel size:
Delivery:
Shipment type:
Meest Corporation delivers letters (documents), small packages, and parcels from Ukraine to Canada and the U.S.
The maximum value of goods one may ship to a recipient in Canada without paying additional import duty is 20 CAD.
The maximum value of goods one may ship to a recipient in the USA without paying additional import duty is 800 USD.
Parcels to Canada and the USA can be sent from the Ukrainian Meest offices - it applies to the offices without a weight limit.
Delivery Terms:
- Parcel pick-up (by pre-order only, and for an additional fee) - up to 5 days (from the sender to the Meest warehouse in Lviv).
- Delivery from Lviv to head offices in Canada and the USA takes from 14 business days (each Wednesday).
- If a customer orders local address courier delivery within Canada or the US, it is carried out within up to 7 days after the package arrives in Canada or the US.
IMPORTANT! Delivery within Canada or the U.S. is performed by Meest partners from EMS Global Postal service and biggest local delivery companies: Canada Post, UPS, FedEx, etc. Delivery rules of such partners apply to all package deliveries.
Meest Corporation Inc. is not responsible for damage to the goods shipped without proper packaging by the sender.
Meest toll-free number in Ukraine: 0-800-50-50-44
Also you can send parcels from Ukraine with recipient post-payment in Canada or the US. To do this, you need to fill out the form. The sender and recipient will receive a confirmation letter in the mail containing a tracking number - it begins with the letters СV. The parcel can be tracked using this tracking number via the link
Payment for shipping from Ukraine
Payment for the shipping takes place in Ukraine, but it is also possible to pay upon receiving in Canada or the USA if there is a pre-order.
If the parcel needs to be sent from the head office in Canada or the United States further to other cities. Delivery service will be provided for an additional fee.
When receiving parcels in Canada or the United States, there will be additional charge for:
Customs clearance, taxes, etc. (the amount is determined by the customs office of the recipient country);
Delivery to the recipient;
The sender in Ukraine can not pay the full cost of shipment and customs clearance, because the amount of the duty will be determined by customs in receiving country.
The recipient in Canada or the United States can order a courier in Ukraine, which for an additional charge, will be pick up a parcel in any city of the Ukraine.
A separate CN 23 customs declaration must be completed for each parcel and must be signed by the sender. Use this form to enter description of goods, their quantity, and total value of the contents of the parcel. When filling out the declaration you may not use general wording such as "clothing", "used items", "humanitarian aid", "souvenirs", "hardware", "food products", etc. Please write the full actual contents of the parcel, including specific items. You must place a number in the "Quantity" column next to the name of each item in the declaration, for example: jackets - 2, pants - 3, etc. Before mailing auto parts, electronics, household appliances, furniture, etc. contact Meest Corporation – Head Office for additional detailed information. If mailing books you must indicate their related subject, such as, religious, children's books, textbooks, etc. in the declaration.
IMPORTANT: All parcels must be addressed to actual recipients residing at the indicated addresses. All packages addressed to fictitious recipients or addresses will be confiscated by Ukrainian Customs.
Meest Corporation has no influence on the decisions made by Ukrainian Customs nor is responsible for their decisions.
Packaging, Weight and Volume
Parcels must be securely packaged, preferably in a cardboard box, with name and address of both the sender and the recipient - must be written on 2 (two) sides of a parcel.
The cost of your package can be affected by the amount of space that it occupies on an aircraft, rather than the actual weight.
To determine the cost of shipping, the greater of the actual weight or dimensional weight is utilized.
The following are formulas for the dimensional weight in lbs. and kg*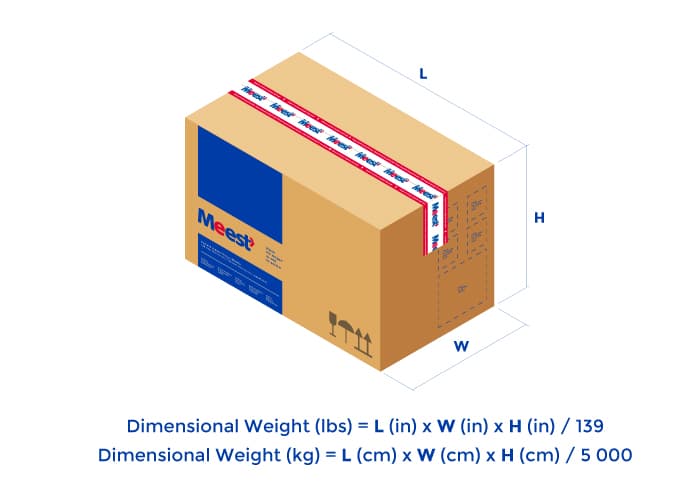 *This formula only applies to AIR shipments
Transferring of cultural valuables from the Ukraine
Export, temporary export, including forwarding, of cultural valuables (paintings, musical instruments, dishware and other implements made before 1950) outside the customs territory of Ukraine - requires an export certificate.
The State Control Department, or entity authorized by the State Control Department for a certain service area in the following cities, will issue the certificate:
Location of authorized agent of the State Control Department

Service Area

city of Kyiv

Zhytomyr, Kyiv, Sumy, Kharkiv, Cherkasy, Chernihiv regions, city of Kyiv

city of Dnipropetrovsk

Dnipropetrovsk, Kirovohrad, Poltava regions

city of Lviv

Volyn, Lviv, Rivne, Ternopil regions

city of Odesa

Vinnytsia, Zaporizhia, Odesa regions

city of Chernivtsi

Ivano-Frankivsk, Khmelnytsky, Chernivtsi regions

city of Uzhgorod

Transcarpathian region

city of Kherson

Kherson, Mykolayiv region
The price (not exceeding EUR 200/US$ 230) must be indicated in the certificate along with the note "This item is not of cultural value and may be shipped by international mail."
The certificate is valid for 6 months from the date of its issue.
Only licensed audio and video products with holograms and an audio-video quality control certificate may be shipped.
When sending multiples of a particular type of goods (books, souvenirs, new clothing or shoes in large quantities) the sender should provide an invoice listing the number of items and their value (not exceeding EUR 150per international postal shipment) and indicating the type of books being sent – children's, art, textbooks, technical literature, historical literature, etc.
Customs authorities have the right to remove items, on the terms provided for under Ukrainian law, which are legally prohibited from being sent by international mail or which are sent in violation of Ukrainian customs law.
Meest Corporation Inc. will not ship the following prohibited items to Canada and USA:
Prohibited Items for Air Freight
firearms and ammunition, sharp weapons, and other items specially designed for attack and defense (brass knuckles, stilettos, cans with liquid nerve agent, etc.), explosives, flammable and other dangerous substances, military equipment;
gas lighters and aerosol products;
drugs, psychotropic substances and their analogs;
items of indecent or immoral content;
permits for the right to carry weapons, employment records, military IDs, passports and other identification documents;
products that violates intellectual property rights;
items considered the national, historic or cultural heritage of the Ukrainian people as stipulated under Ukrainian law;
items made from gold, silver or other precious metals;
seeds and planting materials; food products of animal origin without thermal treatment;
any untreated wood products;
food items: only candy and chocolates can be sent to Canada, and absolutely no food items to USA;
medications, dietary supplements and sports nutrition products
cigarettes and alcohol
cell phones – up to 3 units per recipient in one shipment
any products made out of amber
Attention! The customs services of Canada and the United States stipulate the LIABILITY of the receiver for the presence of any undeclared and /or prohibited goods in parcels.
Welcome to Meest website!
We noticed that your region has changed.
Would you like to be transferred to the local country page?
Please consent to the processing of your personal data